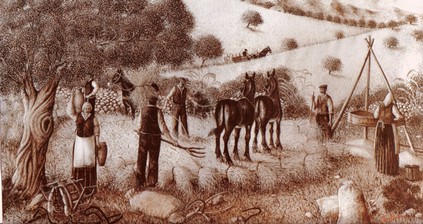 "
Looking and analysing Jò Badamo's works, a question instinctively crosses our mind: what would have he painted if he was born in Milan, in an Alpine area or a tourist one, such as Rimini, or a place like Rome?
But he was born in a sunny town, in Southern Italy, "Castellammare del Golfo ", a place where it is still possible to smell the fragrance of "homemade bread", far away from the disgusting, colourless and meanly aseptic rolls, more appearance than substance. And it is right here, and nowhere else, that we must appraise him.
This perfume strikes our author as a cultural symbol, making him go through visual memory over a relatively recent period when civilisation was the prevailing reality. Or when people began working ever since childhood, learning a job or "seeking consolation "in that great theatre called country.
And it is right here, in this artisan-and country works, that the painter seeks consolation. For him, to portray these events is a holy duty, which has to the future generations, as physiological and anthological DNA. But there is even more: the old Sicilian pride beats in our painter as the dignity of this ancient people, being proud of its poorness, of which he is an integral part both as actor and spectator.
He does not paint; on the contrary, he seems to take possession of that epochal history, in which a part of his soul is beating: the memories of his father, of those generations, who had the privilege not to see the sun, the moon and the earth desecrated, and who enjoyed the pleasure, after a hard-working day, to dine sitting at a rough table, by candlelight, with the whole family, while the wood was crackling in the fire and distant mandolins and guitars, played by someone singing a tender serenade to his sweetheart, echoed in the night.
At that time, natural harmony was still an inviolate law, and the dual concept of man and nature was living at its highest level. From this regret derives the artist's melancholy, which is excellently evident in his monochromatism. But even though melancholy, the painter still believes in life and liberation. He represents men and things in a very passionate way so that everything seems to be living in a fairy-tale world, covered by a veil of mist, of "humidity". Nature beauty is never represented; men and things seem to be acting on a sad stage, turned to the past rather than the future.
Jò Badamo, as a man, does not rebel against his condition, accepting it with human resignation and being aware that, around the corner, the Divine Providence looks indulgently after humankind. Everything "exists", and the author "captures" buried images, giving them a new life, in a lost properties' anthology.
Historical finds, where monochromatism and monographic melt together, just like in the works of the painters' Artemisia Gentileschi, who addressed her monographic way towards male's desecration: two artists with different themes, but similar: the photographic objective, through a short exposure, fixes on the film more than the dynamics of image, the fixating of thought describing only one aspect of life. In Jò Badamo, superfluity is not defined; it is the image "raw and authentic ".
As through the projection of a kaleidoscope, everything is full of poetic realism, a succession of icons, trying to represent the sacredness of an act, of a gesture, of a scene, and you think you can "smell" the scent of that country world still "living" inside the painter's mind. Considering this, the technique, even if excellent, has a scarce influence and the observer. The human warmth deeply attracts it can breathe as soon as the painting, carried out according to the inspiration of that very moment, is caught by our retina, by our "third" eye "listening" to the inner vibration.
"
.